Peak is for sale
After the -once again- comprehensive re-fit following the decision to renew the teak deck, our plans have evolved. We are not getting any younger and the time has come to pass her on to a new loving and caring owner. Looking back over the last 20 years ownership, we realise putting her up for sale is not an easy decision. We have done it before, and although we received financially attractive offers over the years we still did not sell her. Simple reason, we were not ready to let her go.
Now we are.
We hope to sell her as an 'ongoing business' opportunity. She has all of the equipment and supplies necessary for sailing into a new ownership.
Aside from being Hull # 001, PEAK stands out from the pack with the last produced Nautor aluminium toe-rail, a completely faired and osmose free hull and her new teakdeck.
She is ready to go.
In 2021 my wife and I sailed Peak effortlessly from her home base in Scarlino, Tuscany Italy, to the Canary Islands. Early 2022 we then set sail for the Caribbean, where we ended up at Peake's Yacht Services in Trinidad for the renewal of the teakdeck and the extensive refit associated with it.
Peak is a joy to sail, always assuring us of her strength and reliability.
Over the past 20 years we have cruised, chartered and raced her.
Cruising with the family, friends or just the two of us always resulted in the same question. 'Where is your crew?' But it was clear to us from the start. This is an easy, albeit challenging yacht.
She has no bow thruster.
'They were designed and build without', was the answer I got when I asked Pekka Koskenkyla, Nautor's founder.
Smiles and compliments after docking were the result. It makes one proud.
Chartering was also fun to do. It's hard work, but to share the joy and love was a privilege. We have many testimonials to prove it.
Racing Peak to the limits of the crew is wonderful. We stood on the podium a few times. During Swan events and regatta's the 65 's are well represented. Race your heart out, I would say. But for us the racing has also served another purpose. Racing her to the limits made her strong enough for cruising and chartering.
With this in mind we have continuously re-fitted Peak. Rudder, masts and rigging, winches and tracks, all, yes, everything has been strengthened and tried. We did not want to have it otherwise.
With Peak being the original Hull #1, we have been proud to have been the custodian of this important heritage and beautiful, fun, ship for two decades.
She still has the original Perkins engine. Reliability is wat we have chosen. The other technical systems have instead been replaced with modern techniques. All with the same intention, that they are easy to repair and maintain.
Swanlike
In May 2023 my wife and I set sail from Trinidad back to Scarlino. It was the dream sailing trip of our lives. We encountered many challenges, but never -ever- did PEAK, let us down! She is a true seaworthy sailing yacht. Doublehanded, the ketch configuration allows always for the best sails set-up. The -non-fullbatten main and mizzen, allowed us to adjust to the sea state and winds in confort and safety. The Parasailor and Gennaker(s) made downwind sailing a sheer joy. Too much to mention. It was a sailors dream all the way.

She is available in her berth in Scarlino, upon appointment.
Please contact Simon Turner at Berthon Spain, if you are interested.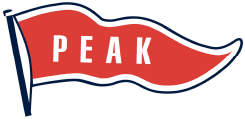 Follow us on Facebook
Follow us on YB tracking